Tv Series Tweet, recent tweets by the most popular tv series! TvSeriesTweet is the new app for smartphones and tablets:
Follow the best and recent tweets from the best tv series
You don't even need a personal Twitter account
More emphasis on words & images (retweets & replies are cut)
◄ Always fresh ►
View the most shared recent tweets, along with their shares count.
Touch a tweet to instantly share it with your contacts.
◄ Update & Focus ►
View and select the list of the leading and most active Tv Series on Twitter
See the series actual influence value (changes day by day)
Touch the Tv Series to read its best tweets, turn it off to hide its tweets.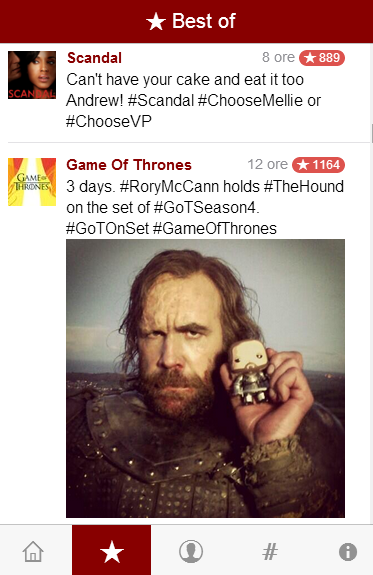 ◄ Follow the Trend ► View the best hashtags and the most used words on Twitter by Tv Series accounts
◄ Lots of Tv Series ► Featuring the best Tv Series, including: House of Cards, Game Of Thrones, Da Vinci's Demons, Cosmos, How I met your mother, The Big Bang Theory, Hannibal, Orange Is the New Black, The Following, Helix, Teen Wolf, Scandal, Once: Wonderland, The Walking Dead, The Tomorrow People, Breaking Bad, 2 Broke Girls, Under The Dome, Black Sails, Brooklyn Nine-Nine, Almost Human, Masters of Sex, True Detective, The Killing, American Horror Story, Awkward, Glee, Pretty Little Liars, The Vampire Diaries, Falling Skies, True Blood etc.
Technical info
The app is made using HTML5 + Javascript and compiled with Cordova; the code was organized with Backbone (development framework) and the GUI with Ratchet 2.
News
Release 1.8: explore the positive and negative trends revealed by our sentiment analysis